In 2019 StreetBoxPHL helped 3 different communities improve their neighborhood streets, proving that even well established community groups need help insuring street furniture, navigating red-tape, and building pedestrian plazas, parklets, or bike corrals.
---
The Ralston Center, committed to making it easier for seniors to age in place, wanted to place benches adjacent to elder care facilities in Mantua. To get a permit to do so, the Ralston Center was required to insure the benches. StreetBoxPHL provided the Ralston Center a grant to cover the cost of ensuring two benches for two years.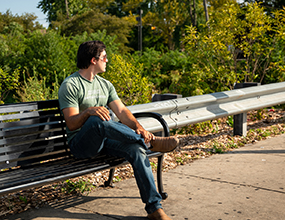 Bartram's Garden, a historic garden on the Schuylkill in Southwest Philly engages the surrounding community through programming and public space investments. To serve their community they installed a bench outside their gardens; making it easier for people to wait for the trolley at one of the busiest stops on the line. StreetBoxPHL is working with Bartram's to legalize the bench, a process that costs more than twice the cost of the bench itself.
Associatión de Puertorriqueños en Marcha (APM) works to meet the familia, health, housing, and community development needs of their North Philly community. Committed to improving public health in their neighborhood, and encouraging more walking, APM partnered with StreetBoxPHL to build a pedestrian plaza outside a child care facility on North 5th Street.