---
When cities have pioneered programs to convert excess roadways into plazasand parking spots into parklets, traffic conflicts are reduced, pedestriansafety is improved, and corridors are revitalized.
---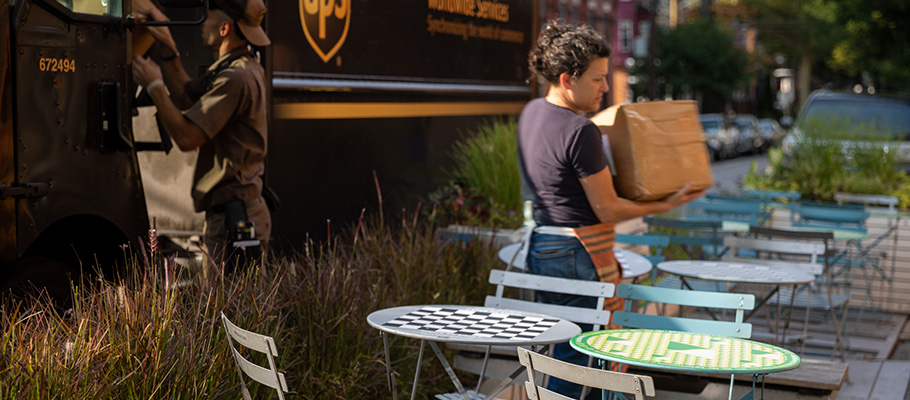 PARKLETS, PEDESTRIAN PLAZAS, AND BIKE RACKS MAKE PLACES SAFER AND VIBRANT
Across the United States, and across Philadelphia, parklets, pedestrian plazas, and bike racks have been proven to revitalize streets and commercial corridors.
~20%
Reduction of crashes from a sample of Manhattan Pedestrian Plazas
15-40%
Increase in sales at University City cafes and restaurants after parklet were installed.
---
Over the past ten years cities have created new tools to help communities transform their streets and commercial corridors. These tools are faster and cheaper than traditional streetscape projects. They enable cities to give concrete back to communities. Utilizing plastic bollards, chairs, planters, and wooden platforms, neighborhoods from Philadelphia to Portland have turned parking spaces into parklets, created pedestrian plazas in the middle of extra wide streets, and built bike corrals in the parking lane.
Parklets: Small platforms in the parking lane, these small parks allow people to eat and socialize where once they could only park.
Pedestrian Plazas: Turning under-used parts of the road into pedestrian plazas can simplify complicated intersections, increase safety, and create new community hubs.
Bike Corrals: Sort of like garages for bicyclists, Bike Corrals (in the street or on the sidewalk), provides businesses an easy way to make it easier for more people to visit their shops, and communities a way to promote family friendly travel.
In Philadelphia these parklets, plazas, and bike corrals can be found in Chinatown, Spruce Hill, Manayunk, North Philly and other neighborhoods across the city. Communities have used them to enliven streets, calm traffic, and promote local events. They are usually owned and operated by local neighborhood organizations or area businesses and are an effective way to invest in community revitalization and beautification efforts.
---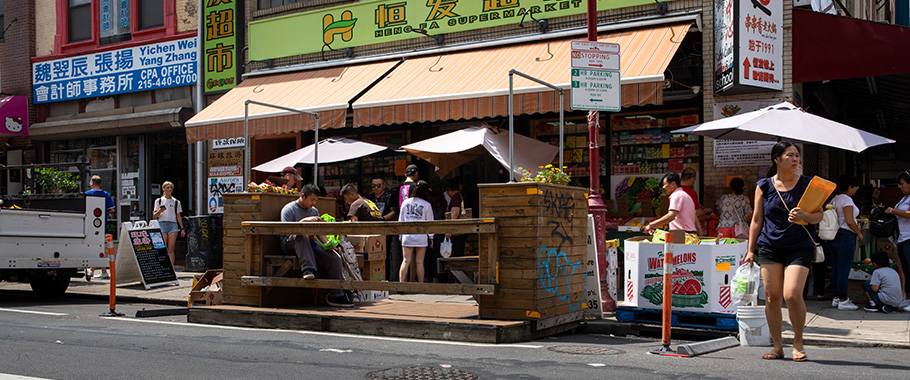 NOT ALL NEIGHBORHOODS HAVE THE CAPACITY TO INSTALL PARKLETS, PED. PLAZAS & BIKE RACKS
Designing, permitting, and building pedestrian plazas, parklets, and pedestrian plazas is complicated. All neighborhoods should have the support to transform their streets.
COVERAGE
Only about 6% of Philadelphia is served by a Business Improvement District
CAPACITY
Community groups that promote placemaking have 5 times the budget of those that don't.
---
Designing, building, maintaining and operating parklets, plazas, and bike corrals is a costly and complicated processes. It's no surprise then that more often than not, these sort of projects appear in those neighborhoods where there are well resourced community groups are able to handle the implementation process. Communities with out these institutions or organizations have a much harder time making these changes. They face three main challenges:
Insurance: Cities require project implementers to carry insurance; these costs, or requirements can be a big barrier for small community groups.
Technical Assistance: Developers employ "Expediters" professionals who understand the design and legal requirements to help develop projects. Communities the same support navigating a bureaucracy build parklets, ped plazas, and install bike corrals.
Capital: Cheap is relative, while such projects are cheaper for cities, they remain cost prohibitive for small neighborhood organizations or organizers.
StreetBoxPHL wants to make it easier for community members to make their neighborhood streets safer and more livable. This means helping them meet and over come regulatory and funding obstacles. This means that more neighborhoods, and more Philadelphians will have access to life saving, community enhancing places and spaces.